eGifter Choice Cards build value that can be applied to the purchase of branded gift cards at the eGifter Marketplace -- quickly and easily, at checkout.
Value Accrues and Displays in "My Balance"
Each time an eGifter Choice Card is Claimed, it's value is automatically added to your Balance. In the example below, a new purchase of $5 was added to an existing balance of $5, bringing the total to $10.
___________________________________________________________________

___________________________________________________________________
The eGifter Choice Card Balance is always available at Checkout, ready to be applied to the next purchase by sliding the toggle switch.
In the example below, a $5.00 Dunkin' Donuts gift card is being purchased by sliding the toggle switch, so that $5 in eGifter Choice Card value will cover the purchase and leave a remaining balance of $5.
Example: The Value is Available for Use at Checkout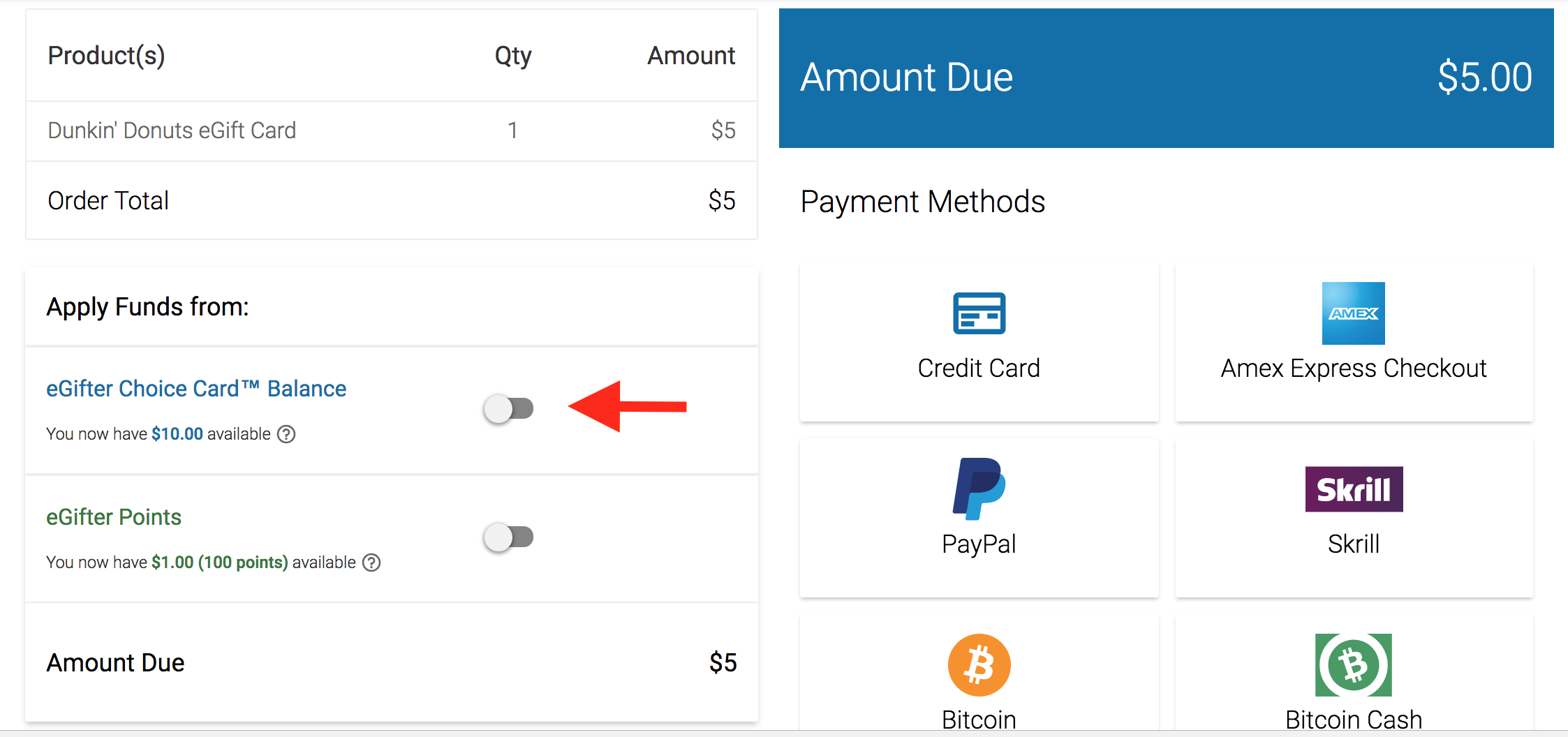 TIPS:
Each eGifter Choice Card is saved to your Archive

The code will be voided for security purposes

To apply your eGifter Choice Card funds to a new purchase, slide the toggle switch on the Checkout page to complete your transaction

When you purchase an eGifter Choice Card as "Send to a Friend", they will need to create an eGifter Account. When they Claim the eGifter Choice Card (typically from the email or SMS they receive), the value will apply to their Balance. The next time they Checkout with a branded gift card, they can slide the toggle switch and pay for their purchase with the Balance.

eGifter Choice Cards cannot be used to purchase Amazon.com gift cards (which are only available as part of our Swap feature, enabled for "Send to a Friend" gifts -- and not Group GIfts). More here: Swap Feature Q&A's
If you received an eGifter Choice Card on a printed page:
Go to egifter.com/claim and enter the gift card code.
You'll be prompted to login to your eGifter Account (or, create one now.)
Click "Add to Balance" to apply the value instantly
Any questions -- Contact Us!