There are lots of ways that you can be invited to contribute to a Group Gift! By the same token, anyone can share the gift invitation with others. The more the merrier!

Importantly, once the occasion (delivery) date and time has passed, new contributions cannot be accepted. However, you can *always* purchase a gift card for the same brand and add value (and messages) separately OR start a new group gift.

If the occasion date has NOT passed, ask the gift organizer to help. They can login to their eGifter account and quickly extend the date to allow time for more contributions. More here: For Organizers of a Group GIft...
Receiving an Invitation to Contribute
The organizer will share a link to the Group Gift Page with you --by email, text, a Facebook post, or by delivering the link to you in any other way.
At any time, whether you contribute or not, you can share the page with friends and family!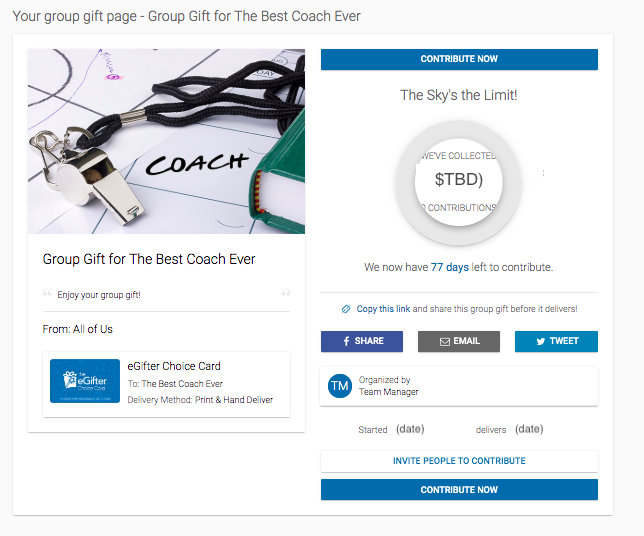 The email will look like this...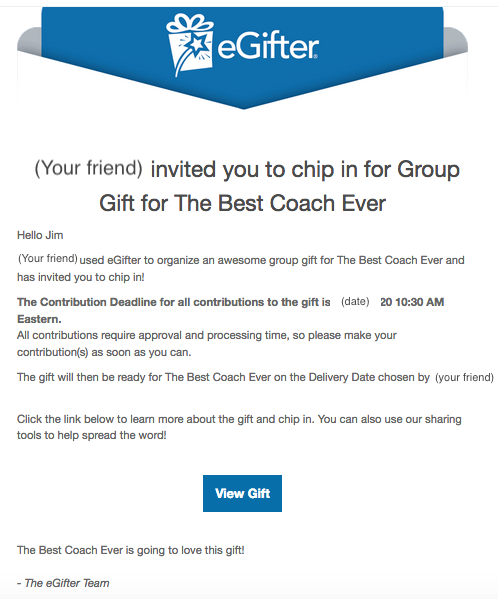 The text will look like this...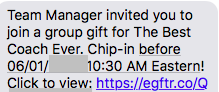 About Payments & Timing
Aside from the $0.99 fee per contribution, contribution amounts are suggested (or not!) by the Organizer during set-up of the group gift.
Group gift contributions go through a payment approval process that sometimes can take up to 24 hours to complete. Once processed, your contribution will be applied to the total and displayed on the the group gift landing page.
Timing is essential, as the group gift will be closed to contributions at the established delivery date/time.
As such, if your contribution is *still pending* before that window, it will not be applied (sorry!)
Login to your eGifter Account to see details of the group gift
At any time, you'll be able to see further information about the group gift (and all other group gifts in which you participated) by logging into eGifter.com and clicking on the "My Group Gifts" menu.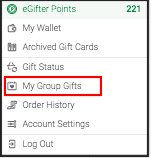 About the visibility of your contribution
While no other contributors will be able to see the details of your contributions, the Organizer will. More here.