The eGifter Points™ program rewards loyal customers for shopping at eGifter.com. :)
Earning eGifter Points™ 
Q: How can I earn eGifter Points?
A: eGifter Points are earned for "Buy for Myself" purchases. They are automatically applied to your Points account and always visible in your Account (while logged in).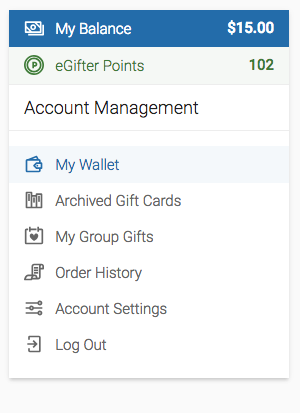 Q: How many eGifter Points do I earn when I purchase a gift card for myself?
A: The amount of eGifter Points that can be earned when purchasing a gift card for yourself varies based on the gift card brand, payment type and whether you are an eGifter Insider.
By Brand:Click any gift card to display the available point distribution. In the example below, 2.0% points are applied to Domino's Pizza purchases
By Payment Type: Purchases with Bitcoin or Bitcoin Cash earn 2X the points on most brands. In the example below, Insiders can earn up 6% points, depending on their payment method. If paid by Credit Card, Insiders will earn 3%. If paid by BTC or Bitcoin Cash, Insiders will earn 6%. 
For Insiders: Insiders earn more (!) on every brand -- as indicated on the brand's detail page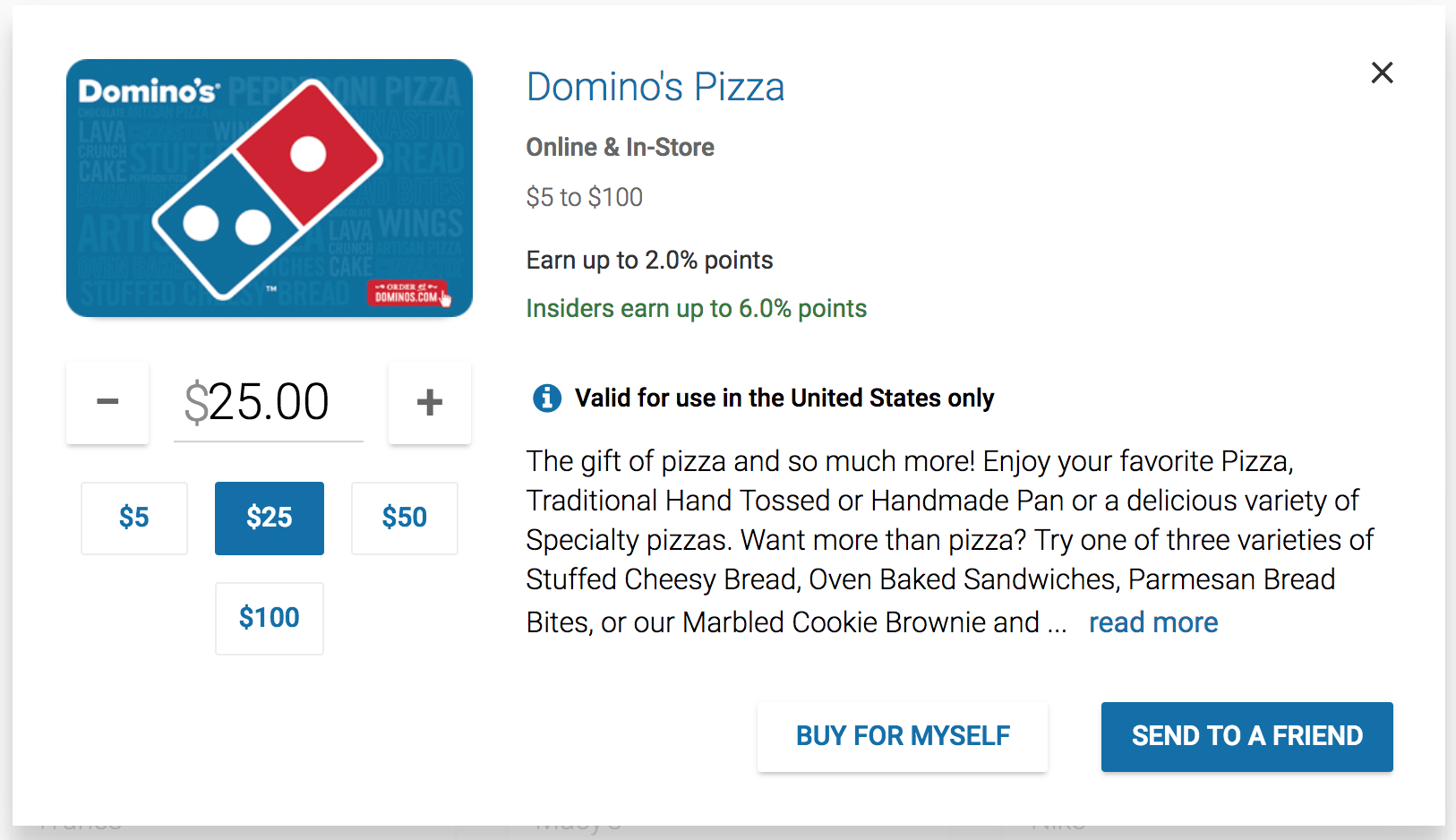 Q: Can I earn Points on eGifter Choice Cards? 
A: No. Because the eGifter Choice Card is essentially a payment method in exchange for a branded gift card, points are not earned.
Q: Can I earn Points on Group Gifts?
A: No -- since contributions come from multiple sources, Points are not awarded for group gifts. 
Q: Can I earn Points on Promotional Gift Cards?
A: No, promotional/bonus gift cards purchases do not contribute to Points balances. 
Q: Can I purchase Points?
A: No. eGifter Points cannot be purchased.
Spending 

eGifter Points™ 

Q: What is the relationship between Points and Dollars?

A: 100 Points is equivalent to $1.00 USD

Q: How can I view and spend my earned Points?

A: From a logged-in state at eGifter.com, your available Points are always visible in your Account. As points accumulate, you'll be able to apply them to your gift card purchase at Checkout.

Also, Points cannot be combined with an eGifter Choice balance to pay for a gift card at Checkout.

Q: Do Points expire?

A: Points expire 12 months after they are earned. Additionally, eGifter reserves the right to cancel or disable accounts and expire unredeemed Points in those accounts. See our eGifter Terms of Service for more information.

 

TIP: eGifter Points Terms and Conditions are here.