Two Factor Authentication (2FA) strengthens access security to your eGifter Account by requiring two methods (aka factors) to verify your identity.
Once you enable 2FA, you'll always need to login from the device that you used to configure it on.
Prerequisite Steps
Google Authenticator (or another Two Factor Authenticator App) must be installed on your mobile device in order to activate 2FA. Doing so provides the verification needed to associate your eGifter account with your identity.
How to Enable 2FA for Your eGifter.com Account
Log into your eGifter Account.
Once logged in, click the menu in the upper right >> 'Account Settings'
Select 'Setup'
NOTE: In order to proceed, Google Authenticator must FIRST be installed on your mobile device.
Selecting Setup will display your *unique* QR code
Point and scan the QR code from the AuthenticatorApp on your mobile device
Navigate to your Authenticator App to generate a 2-Factor Account there.
Now, Navigate to your Authenticator App
You're now going to use your mobile device to capture the QR code that currently displays in eGifter.
Select the + sign in the upper right corner.
A pop up window will display the instruction 'Scan barcode'
After you scan (photograph) the barcode, a VERIFICATION code will display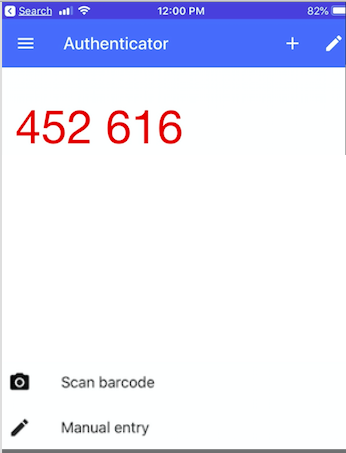 Now, Manually Enter the Verification Code into eGifter
Enter the verification code into eGifter.com (directly below the QR code).
Done! eGifter.com will Accept the Code and 2FA will be Enabled.
Once the verification code has been accepted, Two Factor Authentication will be enabled and ready to use.
IMPORTANT: Be sure to save your second-factor backup code in a secure location. If you lose access to your mobile device, you will no longer be able to login to eGifter.com without this code.
Now, Securely Login to eGifter.com with 2FA
When you log in, you will be prompted to enter the newly rotating authentication code from your Mobile App into eGifter -- allowing you to access your account.
Launch your Authenticator App, notice the code -- and enter it into the eGifter window.
Questions?
Q: How do I reset my password with Two- Factor authenticator?
A: If you have an eGifter Member account you: Go ahead and reset your password as usual. You will be prompted to enter your Google Authenticator code before any changes can be saved.
A: If you have a social media login method (ie Google, Amazon or Facebook): Reset your password directly on the social media website.
Q: What if I lose my mobile device or get a new one?
A: Be sure to note the secondary backup code when setting up 2FA and save it in a secure location. This code will be required in order to access your account.
Be sure to securely save the second-factor backup code during the initial set-up process.

Q: What are the most common errors?
1. The code you entered was incorrect:
Manually entry typo (as opposed to copy/paste)
Looking at a different account on your authentication app and pasting the wrong code
2. The clock on your device is incorrect (our 2FA system is time-based)
Q: If none of the common errors apply, how can I recover my account?
Please Submit a Request and supply your backup code. We'll guide you from there.